EVSE | Industry Solutions
Powerful, Flexible, and Scalable
Charging stations for Electric Vehicle Supply Equipment (EVSE) generate a lot of incredibly useful data, that when connected to other software systems, such as an organization's building automation system, parking management system, HR benefits system, or a customer loyalty program, adds even more value to those systems.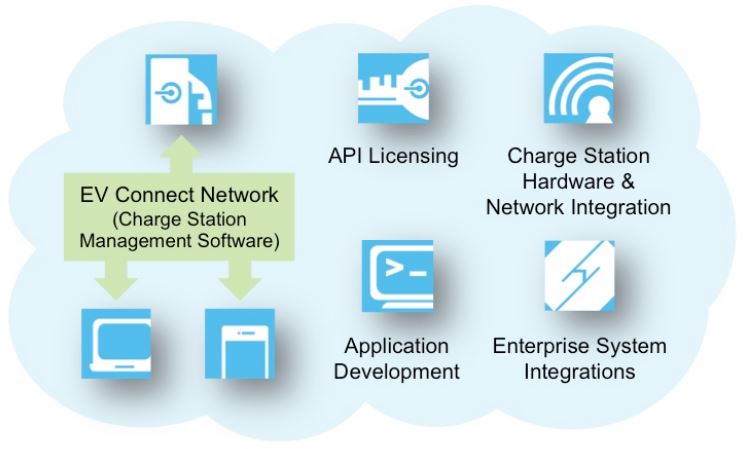 Cloud-based integration and application platforms in Open Charge Point Protocol (OCPP) are more than an afterthought for us, it's core to what we do. Our EV charging network and management platform operate from the cloud, as does our system integration capabilities, APIs, and other applications, such as payment processing systems or reservation applications.
 Cloud based OCPP allows us to provide API support, application development, charge station hardware and network integration, and integration with customers' existing enterprise systems.  For EVSE charging site hosts, the need to integrate the charge stations (which may span several networks) with back-office systems such as reservation systems, HR systems, loyalty program systems, and more, requires a cloud based platform.
Helps organizations manage charge stations
Bridges and enhances relationships with drivers
Provides hardware and network choice and flexibility
Provides API support
Builds industry-specific applications
Integrates with enterprise systems
Unifies existing and disparate hardware
Case Study:  Hotel chains now providing their EV-driving customers with the opportunity to charge their vehicles while staying at their hotels. The hotel operator is making this customer amenity reservable through their online reservation system. When the hotel guest with the reservation arrives at the hotel for their stay, the hotel either provides the customer with a credential (RFID tag) to allow charging or the guest simply uses their RFID tag from a previous visit. The hotel operator is not concerned with the amount of electricity the guest uses and adds a flat daily payment to the customer's bill for access to charging just as they would for use of in-room wifi services.
Case Study: Utility Integration:  The "Smart Grid" has received a lot of publicity over the last few years and it will continue to receive public focus as more and more EVs roll out to consumers. Utilities are justifiably aware of the additional load that a large installed base of EVs could place on the Grid and are seeking solutions to meet the power needs of its customers without the costly development of new power plants. In terms of Utility Integration, the use case is simple: the utilities want to the ability to identify installed EVSE, relate them to their geographic locations and then either temporarily turn off or brown-out those charge stations thus stabilizing the local sub-grids and ensuring that critical systems do not fall victim to power failures.