Anthony De Vito's Biography
Sales Director, Keynote Speaker, Technology Advocate
Anthony is a widely recognized expert in Sustainable | Renewable | Energy.  As a long-time advocate of clean green power, he remains devoted to the advancement of progressive innovative technologies.
Synopsis
For the past 20 years Anthony De Vito has shared his experience and insights at industry events, conferences, panels, and community planning meetings, educating and inspiring individuals to better understand the benefits of renewable energy. He contributed to the development and implementation of solar electric programs for the Home Depot and Costco, as well as having worked for the Nevada Power Company as a Financial Analyst in their treasury department.
Early Life & Education

Anthony Phillip De Vito Jr. was born in Rochester, New York, on November 22, 1966, to Anthony De Vito Sr. & Grayce Rosa De Vito.  In his early 20's he worked for the US Army as a journeyman electronic technical sergeant and shop foreman (E5) of 18 soldiers working with the last vestiges of the ARPANET (network that was the basis for the Internet).
1994 Bachelor of Science Degree Business Administration BSBA (University of Maryland – College Park, MD).  1996 Masters of Business Administration MBA equiv. (Bowie State University – Heidelberg Germany).  He has three daughters and lives in Los Angeles, California.
Career as a Sales Director & Technology Advocate

Anthony is a result driven leader with the field proven ability to grow revenues and improve business processes. He is adept at implementing effective go to market strategies, training and mentoring sales teams, to consistently surpass profit targets through an ongoing development of KPI's that ensure the success of activity and performance goals.
18 years of commercial sales director/manager experience with demonstrated expertise successful selling high-ticket capital products and services;
An authority on Marketing, Sales, New Business Development, Team Manager/Director, Project Management, and P&L Administration;
14 years of PV sales experience preparing proposals and closing business (designer, installer, distributor);
Home Depot and Costco program development, rolling launch, kiosk design/set-up, local in-store staff training, lead generation and account executive sales management of solar electric products and installation services;
Career Milestone of 522nd Solar Electric System Completed (2014 Green Power Systems 3.4 MW's of commercial and 2.1 MW's of residential projects since 2001);
Doubled firms prior years gross revenue 3rd year in a row (2007 Clean Power Systems);
Regional Sales Manager # 5 position nationwide out of 37 cities (2000 Cox Communications – Cox Business Services)
Toastmaster of the Year | Regional Club Level (1997 Toastmasters International)
Masters Business Administration | MBA (1996 Bowie State University – Heidelberg, Germany)
Technical Sergeant and Shop Foreman | E-5 (1991 United States Army)
Legacy
We've accomplished a lot over the past century, but we know we can do more – and we will.
Through seeking a balanced relationship with the earth and each other most of the world's problems concerning energy and climate can be solved.  By addressing sustainability, public health, and education through the conscientious design of our human environments regenerating and sustaining our planet becomes possible. The choice to live harmoniously is ours, and we must act now, for there is no time to waste.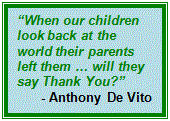 Anthony is committed to minimizing the impact that business has on the environment through innovation across sales, operations, and production leadership.  He is working to permanently reduce energy consumption in manufacturing facilities in an effort to shrink our carbon footprint and increase efficiency.  He brings his passion to life through a wide range of business, social, and environmental motivational keynote addresses that are designed with future generations in mind.