OP Open Protocol – OCPP
We're Committed to Open Standards
Electric Vehicle Charging Statins (EVCS) communicate through the 4G LTE Cloud-based networks to management software for the purposes of operating and controlling the charge stations.  OP Open Protocol is an internationally established open protocol for the communication between EV charge stations and charge station networks (akin to a cell phone service provider). It is also called OCPP for Open Charge Point Protocol.

We're Committed to Open Standards
Open Protocol (OP)

also known as Open Charge Point Protocol (OCPP) is an open communication standard that allows charging stations and central systems from different vendors to easily communicate with each other.
We strongly believe that open networks mean a better experience for everyone who's building or using today's electric vehicle ecosystem.   We are a longtime supporter of OP/OCPP, and we're committed to building solutions that work with open standards for electric vehicle charging.  All of our network hardware and software is OP/OCPP compliant, and we're some of the world's largest networks using OP/OCPP. In part, that's why our network is the most feature-rich and reliable electric vehicle charging network available today.
OCPP tells the charging station to communicate and send data to a particular EV charging company's charge station management software .  That charge station management software is the major component.

.
EV Charging Station Management Capabilities
We have created the industry's most flexible EV charging management and application platform.  OCPP can manage large numbers of geographically dispersed charge station assets and provide the following management features and capabilities:
Locate EV charging stations
Monitor the charge stations' status
Remotely start and stop charging stations
Set, manage, and update access control lists
Set charging pricing and tariffs for usage
Provide notifications to charge station users
Update charge station control software and firmware remotely
Run management reports
Reserve EV charging stations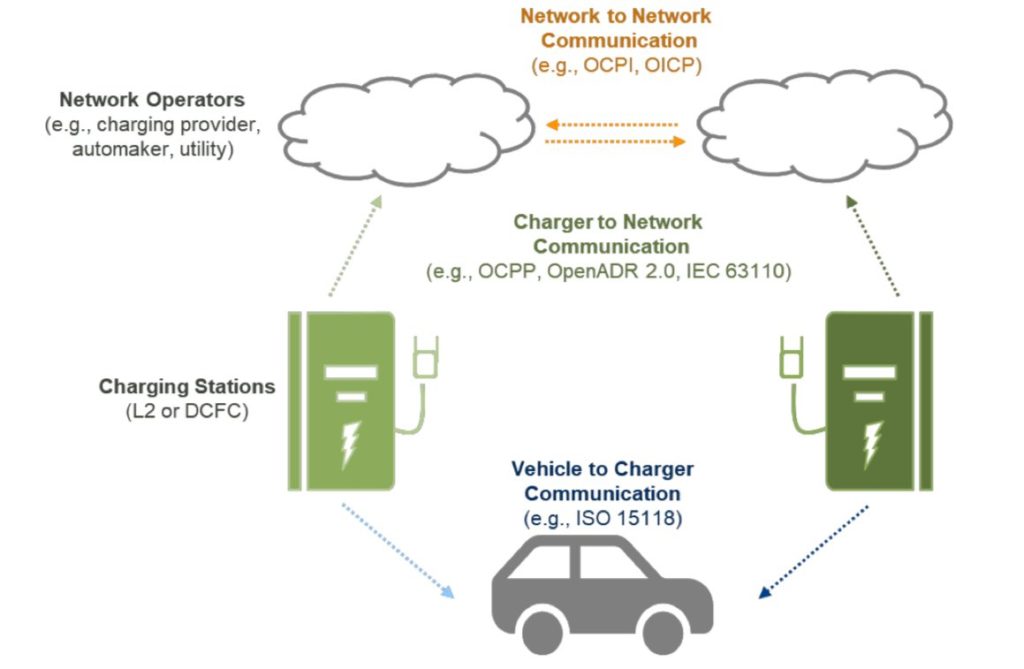 An EV charge station network is necessary to monitor charge station up-time, control access to charging, enable payment processing, capture driver and usage data for reporting, and to integrate with enterprise software systems beyond the charge station network – including utilities, building management systems, HR systems, customer loyalty programs, and other charge station networks.
Some leading EV charging companies that make both charge stations and network operating software say that their network uses open communications protocols, like OCPP, to make their networks open.  But often that statement is misleading. If a network is truly open, you should be able to switch network providers without replacing your charging stations when your contract is up.  It makes sense when you think about a consumer product analogy:
Would you buy a television set that only worked with only 1 particular service provider?
At Green Power Systems we use OCPP in order to give customers long-term flexibility and choice – without having to replace hardware when you switch networks. That flexibility leads to higher returns on your charge station investment and the lowest-possible cost of ownership.
Being open means more to us than simply using OCPP as our network communications protocol.  It means we can help you design a cost-effective EV charging program that is exactly what you need.  From offering you a choice between leading hardware vendors, like Eaton, GE, and others, to managing and maintaining your entire charging program for you.