EVSE | Charging Stations
Which EV Charging Stations Are Right for You?
Our Electric Vehicle Supply Equipment (EVSE) works with leading charging station companies to customize a charging station solution that is best suited for your situation.
The companies we work with are among the world's leading charging station manufacturers.
All of our charging stations are capable of being expertly managed through the cloud.
Whatever charging stations you go with, you are assured of maximum use for the stations and minimal headaches for you or the drivers who use your charging stations.
Here are some of the current charging station manufacturers we work with:
You Came to the Right Place
With more than 2,500 Electric Vehicle (EV) charging stations deployed in 2014, and tens of thousands of commercial and governmental charging stations under management in 2015, we provide you one of the nationwide leaders in electric vehicle charging.
Free Site Assessment
The free site assessment we offer kicks off the painless steps to plan the best charge station program for your company or organization.  During a site assessment, we send one of our certified EV charge station technicians to your site to study the location with an eye towards: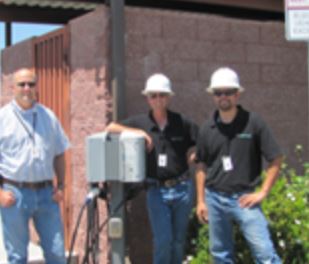 Finalizing your charging station needs (i.e., Do you need/want access control?  How many drivers are there?  How will your stations be used?).  Identifying the best locations for your charge stations based on your objectives and installation costs.  Our technicians evaluate things like proximity to available electric service; obstacles that must be overcome to get power to the desired location (e.g., drilling thru walls, trenching to route conduit under pavement, coring through floors in garages, etc.); and cellular network availability.  Determining if there is sufficient electrical service to the location or whether new transformers, panels, etc. will be required for charge station installations.
Installation Best Practices
We offer you a network of licensed, bonded, and certified technicians, all of whom are knowledgeable about local construction codes, best practices for charge station installation, and permitting procedures.  Our technicians ensure that your charge station installation is done correctly.
We can also work closely with your preferred electrical contractor to make sure the installation get done right the first time and with minimal cost.