What Is Sustainable Renewable Energy?
Sustainable Renewable Energy, often referred to as green power, is energy that comes from natural resources, such as sunlight, wind, moving water, and geothermal heat.  Using established technologies, renewable energy power plants convert the energy of these natural resources into electricity that can be sold to businesses, utilities and industrial resources, via long-term contractual agreements.  Renewable energy power plants can help provide inexpensive green power to help power American business, create jobs, and move the United States toward energy independence.
As an asset class, renewable energy has historically attracted significant investment from large corporations and sophisticated investors seeking diversification and consistent returns.  With the introduction of Solar CrowdSourcing via Micro-Solar Projects (MSP) individuals that are not necessarily home owners can now invest in renewable energy power plants through Green Power Systems.  Each state now has or is working toward completing the development of a Renewable Portfolio Standard (RPS) to help move us to Sustainable | Renewable | Energy … sooner than later.
Renewable Energy Standards By State
Many states have already adopted renewable energy standards—which require electric utility companies in those states to produce a portion of their electricity from solar, wind and other renewable sources. Twenty-nine states and the District of Columbia have adopted hard targets for renewable energy production and another eight states have set renewable energy goals. Renewable energy "standards" place an obligation on electricity-supply companies to reach set targets, while renewable energy "goals" are voluntary for companies—although states typically incentive a utility for reaching a set goal.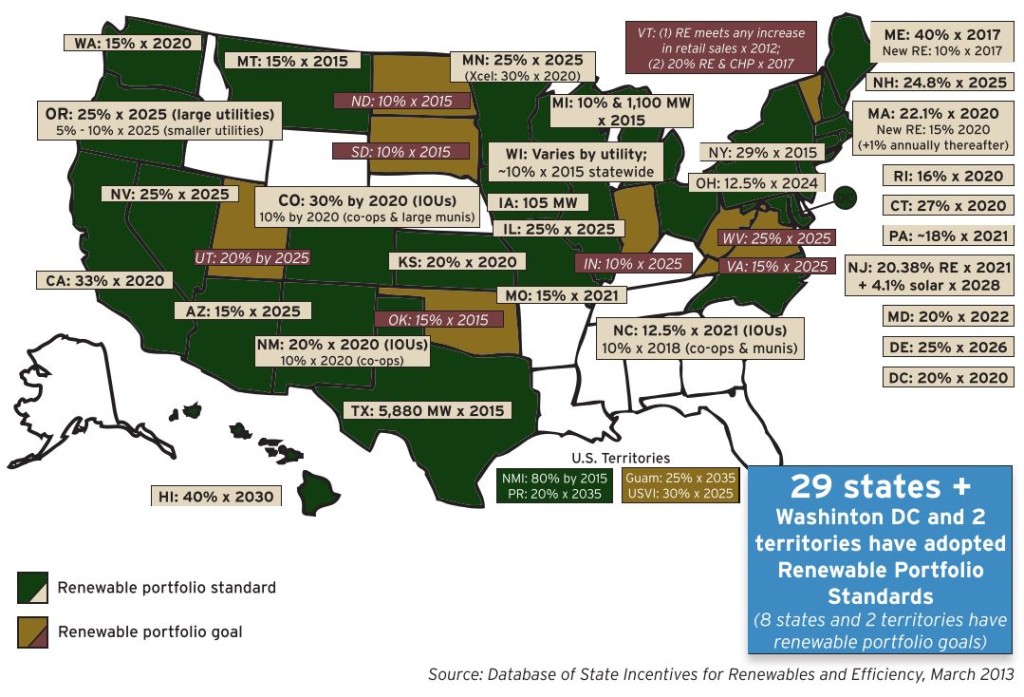 Why States are Adopting Renewable Energy Standards
In his 2011 State of the Union address, President Barack Obama proposed a federal "clean energy standard," which would require utility companies to produce 80% of their electricity from no- or low-carbon sources by 2035.1 Clean Energy Investment at the Center for American Progress ("CAP") has recommended that an 80% clean energy standard should also include a requirement that 35% of electricity generation come from renewable sources and efficiency measures.  This standard could be met by requiring a national target of 25% renewable electricity generation alongside a requirement that utilities reduce demand to save energy by 10 percent.
An analysis conducted by the Union of Concerned Scientists found that a national standard that requires all electric utilities to increase usage of renewable electricity to at least 25% by 2025 would create jobs, lower energy bills, and reduce harmful pollution.  The analysis concluded:
297,000 jobs would be created
$263.4 billion in new capital investment would occur
$11.5 billion would go to local communities from new property taxes
Consumers would save $64.3 billion in lower electricity and natural gas bills by 2025.